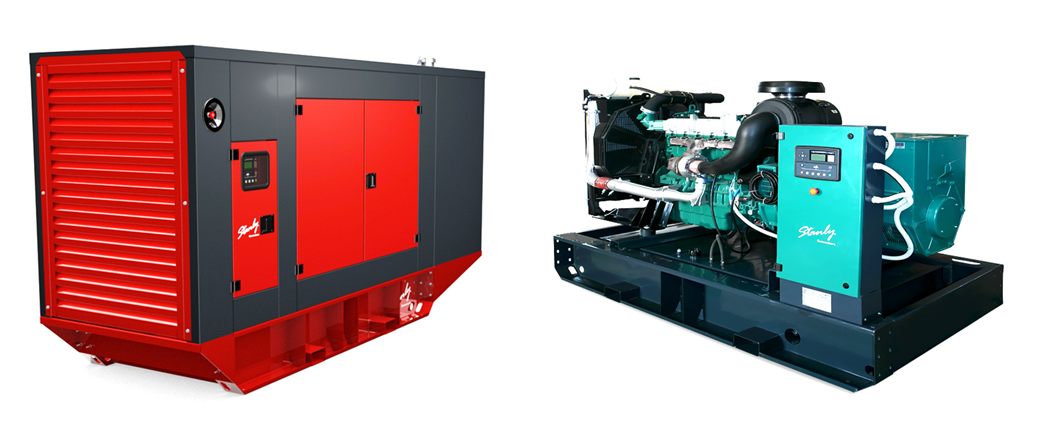 For different Voltage or Frequency. contact our techical department

Powerful and Robust
Stanly generator deliver outstanding performance with excellent load acceptance, strong diesel engine, high efficient alternator in a robust package to ensure long working life.

Stanly generator and automatic transfer switch can be optimized to achieve NFPA 110 level 1 criteria for critical loads and carry loads in less than 10 seconds from the mains failure to the transfer of loads to the generator.
MOTOR STARTING CAPABILITY
We engineered Stanly Generators to  handle various loads. We recommend equipping our generators with Auxiliary winding or P.M.G excitation if it isnot equipped as a standard which improve the alternator's performance by more than 40% and lower voltage drop compared to standard excitation.
Serviceability
EASILY MAINTAINED
Frequently serviced parts are located on one side and all parts can be accessed thought large removable doors if fitted with canopy even the large tank can be removed . in addition to dedicated control panel compartment.
LONG SERVICE INTERVAL
Most Stanly Generators have a long service interval of 500 running hours which can be extended with the optional service interval extension kit to reach 1000 hours.
The extended service kits available only for certain models
Quality
TOP TIER COMPONENTS
Engineering a generator to provide reliable performance, low fuel consumption and outstanding durability required high quality components, from world leading engines with proven reliability, to highly efficient and robust alternators to provide stable source of power.
Stanly Generator manufactured and tested according to ISO standards. and tested by world recognized companies in testing and inspection.
MOST ADVANCED TESTING EQUIPMENT
Prior to dispatch every generator undertake vigorous testing using state of the art testing equipment and load banks. Not just to test the functionality or load capability of the generator , but also to determine it's load acceptance, behavior and transient response under various loads.
Durability
WORKS IN HARSH CONDITIONS
Stanly Generators equipped with tropical radiator as standard and can work in high ambient temperature. Moreover our gensets can be optimized to handle harsh conditions according to site conditions.
ADVANCED CORROSION PREVENTION
Stanly Generator's canopy protected with an advanced corrosion prevention coating,  Starting from the galvanized steel to multiple layer of coatings. result in  2.5 times better resistance to corrosion compared to other brands coating.and for more demanding applications stainless steel canopies are available.
2.5x
Better Corrosion Protection
ULTIMATE WINDING PROTECTION
We engineered Stanly Generators to perform optimally in every situation and handle various loads types and conditions; the most difficult loads for a generator are motor loads, as they require high initial power (starting KVA) to start operation, sometimes reaching up to seven times their rated power.
Only Available on SPM, SVM, and SCM series equipped with meccalte alternators
For different Voltage or Frequency. contact our techical department
Fuel Type                 Diesel
Speed                      1500
Bore / Stroke           131 / 158
Cooling                    Water
Displacement         12.78
At Prime                  92.9 L
Standby                  102.9 L
Pole Number                  4
Insulation Class            H
Power Factor                0.8
Unlimited running hours  with an average load factor of 70% of the Prime Power over each 24 hours period. A 10% overload is available for 1 hour in every 12 hours of operation.
Limited to 500 hours annual usage with an average load factor of 70% of the Standby Power rating over each 24 hour period. No overload is permitted on Standby Power.
All ratings are rounded and based on operation under ISO 8528-1, ISO 3046, DIN6271 conditions which are 25°C (77°F) Air Inlet Temp,  a barometric pressure of 100 kPA (100 m A.S.L), and 30% relative humidity.
For particular condition, consult our technical department
Due to the constant development of our products, we reserve the right to introduce changes to models and features without prior notice